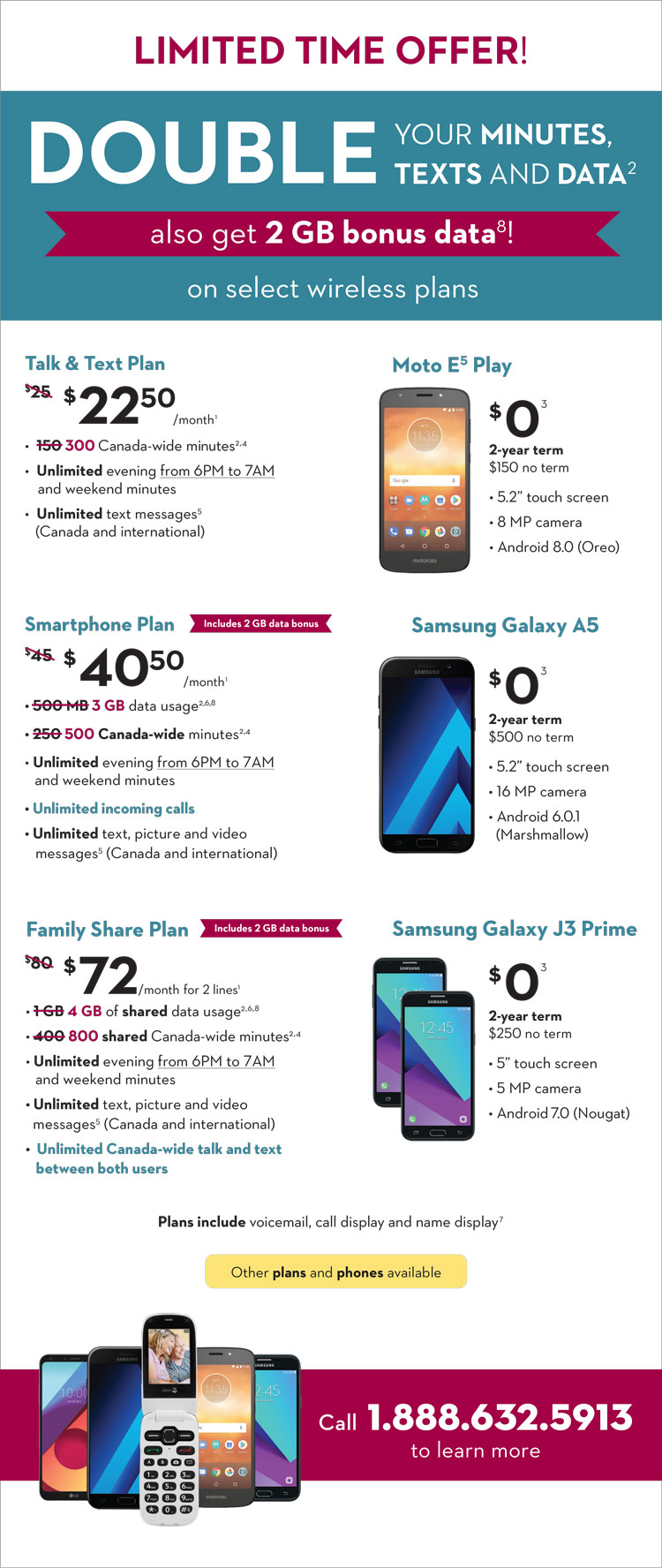 SEE FULL DETAILS
Zoomer Wireless offers shown are for new activations only and expire December 31, 2018, or while quantities last, and are subject to change without notice. Cityfone, operated by Rogers Communications Canada Inc. is the reseller, biller and wireless service provider for the Zoomer Wireless program and provides all customer support and enrolment.
Wireless usage is charged on a per minute basis and is rounded up. Additional local or Canadian long distance usage is $0.35/minute. Long distance usage (calls made within Canada and from Canada to the continental U.S.) is $0.35/minute; airtime not included. 411, roaming, optional services, data use ($1/MB without a voice and data plan or bundle) and taxes are extra. Provincial 911 emergency services fees: NS 43¢/mo, AB 44¢/mo, QC 46¢/mo, NB 53¢/mo, PEI 70¢/mo, NL 75¢/mo, SK 94¢/mo. Evenings: Mon–Fri: 6PM–7AM; Weekends: 6PM Fri–7AM Mon. All Couples and Family Plan users must be on the same account. Couples Plan: max. 2 users. Family Plan: min. 2 users, max. 4 users. Monthly fee applies to the first 2 users; additional users are extra.
1. 10% off plan fees, the annual cost of CARP membership dues, Zoomer Magazine subscription and CARP Chapter donation are provided for as long as you are a Zoomer Wireless customer. For customers who currently have a CARP membership and/or subscription, renewal will start upon expiration of existing CARP membership. For customers who do not have a CARP membership, membership and subscription will start immediately upon signup with the Zoomer Wireless program.
2. Double minutes, texts and data bonus applies with a 2-yr term on in-market Individual plans from $18/mo to $60/mo and on all Couples and Family plans; bonus not applicable with Canada/U.S. plans.
3. Device pricing and minimum monthly rate plan apply for each line, and vary by term and plan chosen. Early cancellation fees apply with a 2-yr term.
4. Minutes can be used for local and long distance calls anywhere within Canada that terminate within Canada. $0.35/additional minute.
5. $18/month plan includes text messages sent within Canada. Plans starting from $22/month include text messages sent from Canada to Canadian and international wireless numbers. $0.20/additional sent text to Canada. $0.25/additional sent text to the U.S. $0.35/additional sent text internationally. Picture and video messages require data, and are only available in select wireless plans. Messages sent while roaming not included.
6. Includes data use in Canada only: 50 MB / 100 MB / 200 MB: $0.15/additional MB used. 500 MB / 750 MB: $0.05/additional MB used. 1 GB: $0.02/additional MB used. Data charges while roaming: $1/MB in the U.S.
7. Mini voicemail, call display and name display included on plans starting from $22/month.
8. Promotional data bonus applies with a 2-yr term on in-market Individual wireless plans from $40/mo to $95/mo and $80/mo Family Data Share Plan. Promotional data bonus is not eligible for Double minutes, texts and data bonus and is not applicable with Canada/U.S. plans. Other offers cannot be combined.
All other trademarks are the property of their respective owners. © Zoomer Wireless, 2018. All rights reserved.